Joseph Humphrey Kofi Bonney1, Terrel Sanders3, Patience Adams1, Bright Adu1, Ivy Asantewaa Asante1, Evelyn Yayra Bonney1, Deborah Pratt1, Bright Agbodzi1,3, Selassie Kumordjie1,3, Clara Yeboah1,3, Evangeline Obodai1, Prince Ketorwoley1, Mildred Tublu1, Magdalene Ofori1, Dennis Laryea4, Franklin Asiedu-Bekoe4, George Boateng Kyei1,2, Sally-Ann Ohene5, Gifty Boateng6, Ryan Chapman7, Ousmane Faye8, Michael Wiley7, John Kofi Odoom1, Dorothy Yeboah-Manu1
1 Noguchi Memorial Institute for Medical Research, College of Health Sciences, University of Ghana, Legon
2 University of Ghana Medical Centre, University of Ghana, Legon
3U.S. Naval Medical Research Unit – No. 3, Ghana Detachment, Accra, Ghana
4 Public Health Division, Ghana Health Service, Ministry of Health, Accra, Ghana
5 World Health Organization (WHO) Country Office, Accra Ghana
6 National Public Health Reference Laboratory, Korle Bu, Accra Ghana.
7 Department of Environmental, Agricultural and Occupational Health, College of Public Health , University of Nebraska Medical Center
8 Department of Virology, WHO Collaborating Center for Arboviruses and Haemorrhagic fevers, Dakar
On July 1, Ghana detected two cases of Marburg virus disease in the Ashanti region. Samples were sent to the Institute Pasteur in Dakar, Senegal (IPD) which confirmed the results. Two additional cases were identified resulting in a total four cases and three deaths. The samples were processed for sequencing at Noguchi Memorial Institute for Medical Research (NMIMR) using a hybrid-capture technique that included probes designed against Marburg virus (MARV) strains. Two viral genomes were recovered at 98.4 and 99.7%. Phylogenetic analysis revealed the MARV genomes from Ghana are related to the 2021 Guinea MARV sequence and overall group with sequences obtained from bats in Sierra Leone and an outbreak that occurs in Angola in 2004-2005.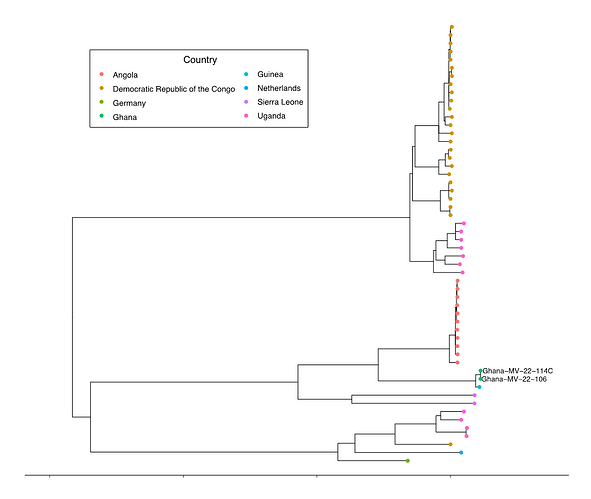 Figure 1 : Phylogeny of MARV sequences. Complete MARV sequences were downloaded from ViPR with Rvan virus and duplicate sequences removed. The Ghanaian sequences are colored in Green. Sequences are colored according to Country the samples were collected.
The genome data is available here: https://drive.google.com/file/d/1UPNxKcUvJpng9CfCkqEc3X7p_fuZVSTL/view?usp=sharing
DISCLAIMER
The unpublished sequences are shared via the website virological.org under the following conditions: The Marburg virus sequences from Ghana are shared by the Ministry of Health Ghana and NMIMR, to support the public health response as well as the development and evaluation of Marburg virus disease diagnostics and therapeutics. The data may be used and analyzed for these purposes. We are preparing a scientific publication of the data. In the meantime, this post may be cited. If you intend to use the sequences for publication prior to our own publication, please contact us directly.
Dr. Kofi Bonney
KBonney@noguchi.ug.edu.gh
Senior Research Fellow,
Department of Virology,
Noguchi Memorial Institute for Medical Research
The sequencing work for this project at NMIMR was done in collaboration with the Noguchi Sequencing CORE, Navy Medical Research Unit-3, Institute Pasteur de Dakar, and the University of Nebraska Medical Center.